Lois Ellyn Studio and Nouveau Chamber Ballet Present "Cigale and Other Works"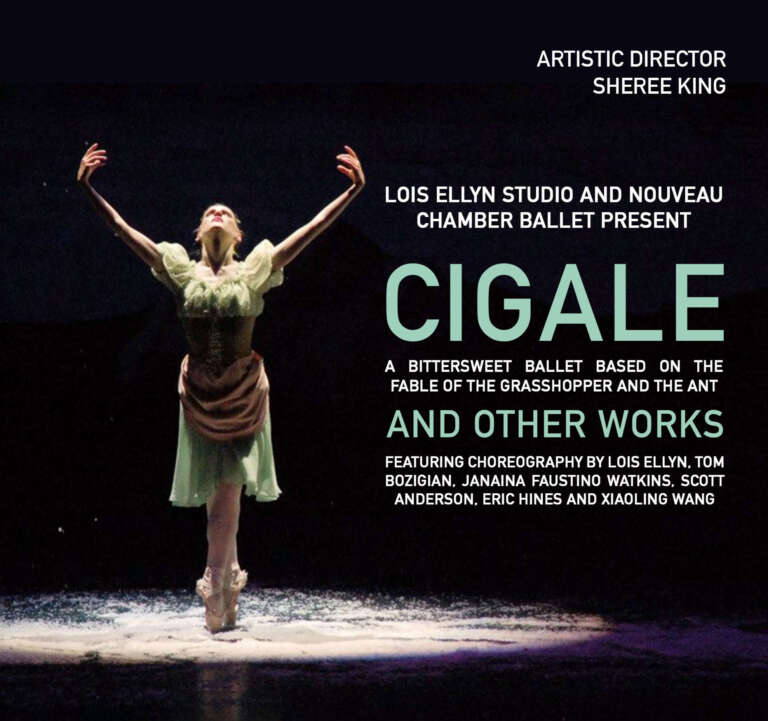 Friday, April 28, 2023, at 7:30 PM at Brea Curtis Theater. $30 for a General Admission Ticket that includes complimentary light refreshments.
Cigale is a bittersweet ballet based on the fable of the grasshopper and the ant. Other works will be presented featuring choreography by Lois Ellyn, Tom Bozigian, Janaina Faustino Watkins, Scott Anderson, Eric Hines and Xiaoling Wang.
Call (714) 526-3862 or email nouveauchamberballet@gmail.com for more information.
Support your local ballet company. For 25 years Nouveau Chamber Ballet, a non-profit organization, has provided dancers with performance and educational opportunities.
Ticket presale is now over and will be available for pickup at will-call the day of the show. There will be a very limited number of tickets available at the door.
Our production was videotaped and will be available via a digital download link. They are $30 per disc, and can be obtained by pre-paid order.